Our latest Blister Machine DPP260Ki-II
In 2007, Jornen launched the Blister Machine DPP260Ki. The sophisticated design and matchless appearance make it an immense sensation in the market, and attracted great attention from western pharmaceutical machinery manufacturers when it was exhibited in Dusseldorf, Germany.
It stands out as one of the notable landmarks in the progress of Jornen. In 2014, after six years of development, we launched the second generation of DPP260Ki and named DPP260Ki-II Blister Machine.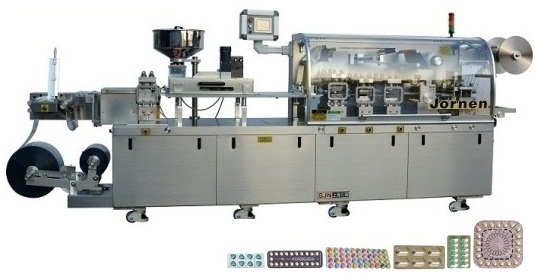 The new generation continues its exquisite craftmanship. The most prominent characteristics of the machine, compared with the previous one are:

1. It is equipped with automatic format locking, positioning system and achieves extremely straightforward format changeover.

2. Sealing pressure adopts the gas-hydraulic pressure cylinder, so the pressure can be set freely according to the sealing area (commonly a larger sealing area requires higher pressure).
3. Adopts precise servo technology. Through Touch Screen User Interface the position of every station (from forming to cutting station) can be adjusted automatically for format changeover. The highly automatic technology significantly reduces the time of format changeover (optional).
For more details and machine video please click
here.
Jornen Machinery Co., Ltd.
12-4-2014